[two_third]
Demand-generating email marketing services.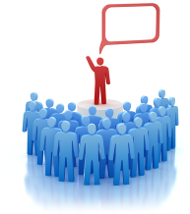 Interested in arming your sales process with professional email campaigns that are proven to generate interest in your business?
We know executing effective marketing communications takes a lot of time, energy and cash—most of which you probably don't have to spare. Luckily, Summit Marketing's email services will take care of the hard work for you. Our team of experts create and execute monthly campaigns on your company's behalf using tactics we have personally tried and tested over time. Summit Marketing's automated email services mean you don't have to waste time creating content you're not sure will work. This manageable solution will keep you front of mind when it comes to prospects and clients with:
Monthly e-newsletters to help you stay relevant
Multi-touch prospecting campaigns featuring unique landing pages designed to convert clicks into prospects
Customer referral campaigns to generate new demand for your services
Monthly webinar series created, promoted and executed on your behalf
Access to templates and content on Summit Marketing's DIY email platform
Continual creation & distribution of captivating educational content
Tried & tested campaigns that work.
Having already sent millions of emails on behalf of many companies to date, we know our campaigns are effective in attracting new business, re-engaging lost opportunities and increasing sales with existing customers.
We have extensively A/B tested different types of content, subject lines, selling points, and promotional offers across a wide range of products and services. As a result, we already know what works best, and now we're sharing that expertise with you through our specialized email service. Let Summit Marketing's email services help you sell your products or services. Here are a few industries that can benefit from our marketing services:
Restaurants/Bars
Insurance
Real Estate/Home Services
Medical
Health & Beauty
Dental
Retail
Professional Services
[/two_third]
[one_third_last]
Get quick site SEO Report!
Paste your URL below and get full in-depth SEO report and SEO tips.
What's Your Local Score?
Enter any business name and zip code and see how optimized it is for local search.
[/one_third_last]
+ WHAT WE DO
→ Engage your Audience
→ Establish Your Business Online
→ Position Yourself as an Industry Expert
[clear]